THE LATEST TECHNOLOGY FOR SERIOUS FUN
The gear has a WOW factor. It is exciting to hold and exhilarating to use. The phasers are modeled on sci-fi weapons from movies and computer games. They are sophisticated, realistic and robust with a range of special features and sound effects.
The arsenal of weapons includes pulse rifles, stargate phasers, commando carbines and spitfire pistols, together with berserkers. We also have designated marksman units, namely the M16 and Mortita.
The Phasers range in size from 420mm to 1010mm, with weight between 2 and 5.5kg and have from 50 to 99 rounds of ammo per magazine (with up to 15 spare magazines).
You get to choose the one that best suits you and the mission objective. Each unit has its own particular strengths and characteristics. It is the combination that produces an effective team result. The high powered infra-red beams have a range of up to 200 mtr. The units shoot a straight line beam and hits are scored by tagging sensors on an opponent's hat or weapon.
In a typical mission, players start with 9 lives, however this can vary from 1 to 99. A display on the phaser indicates a player's ammunition supply and the number of hits taken.
Combined with loud and appropriate sound affects, the display shows 'ouch' when a player takes a hit and 'dead' when the final hit is taken. When this happens the unit is disabled until reset by the referee.
Equipped with telescopic sights or red dot scopes the phasers are accurate at long range. Making hits is not just a matter of luck. With this game skill, stealth and strategy are rewarded.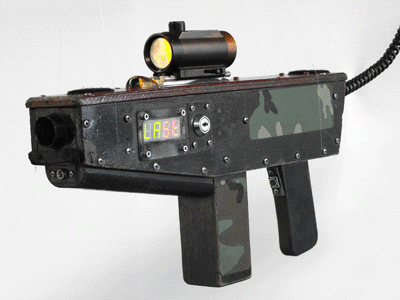 Rather than metal construction, this weapon is primarily marine ply (therefore water resistant).
This makes it very light while still being robust.
Also rather than a full trigger mechanism the Berserker has a trigger button.
The unit is suitable for indoor or outdoor use.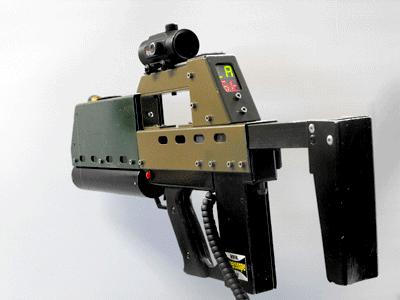 The Commando Carbine is designed to work both indoors and outdoors.
The Commando Carbine and Stargate Phaser are compact in design coupled with huge firepower.
Highly adjustable stock so that a wide range of players can use this unit comfortably.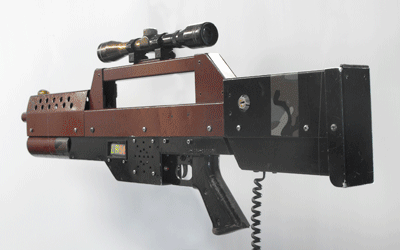 The Morita is in the DM (Designated Marksman) class of weapon.
This is an extreme range gun, best used with the telescopic scope.  It shoots so far you might not even be able to make out if the person you are shooting at is on your team or not.
This is our most accurate semi auto sniper rifle ever built.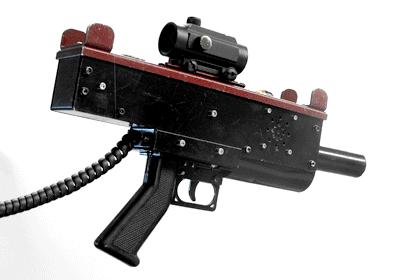 The Spitfire is one of our most authentic models. The Spitfire is a terrific compact and light weight weapon.
Excellent for close quarters battles .
It is a great hand gun. Suitable for indoor and outdoor use.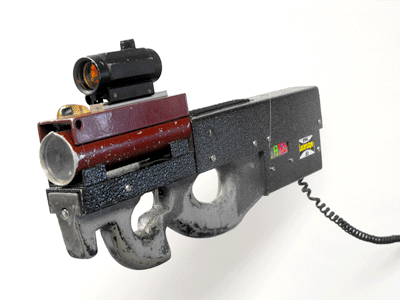 A great all round unit. It was inspired by the P90.
Unique to the Albany Laserscape.
A specialist outdoor units, beautifully balanced and snub nose; suitable for tight scrub and close quarter combat.